Beginners, who are going to buy camping chairs for the first time, must keep an eye on the following tips and ideas before investing in the camping chairs:
1. Budget
The primary function of the camping chairs is to ensure comfort during your expeditions. To have a maximum comfort level, you have to spend a little more investment on a camp chair. As camping chairs are of different types, you can have a variety of camping chairs to choose from according to your set budget.
First, you need to know your requirements, including comfort level, and then choose your camp chairs accordingly. Secondly, you should consider the weather conditions about where you are going for the camping expeditions.
If the weather is sunny there, you have to look for a coming chair with a built-in canopy. If you need an extra comfort level, you can invest in a big chair. This will provide you with more space and comfort, but the investment will be high.
As well as this, camping loveseat and cooler chairs options also exist and differ in price. If you are going with your friends or family, you have to look for more than one or two chairs and set your budget accordingly.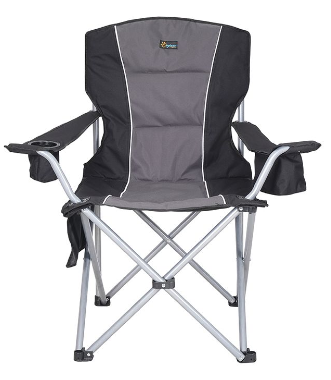 Oeytree Black Camping Chair
2. Material
There are a variety of materials to choose from when buying outdoor camp chairs. Here are some things to consider when looking for camp chair material. A good camp chair's legs are typically made up of aluminum for its phenomenal strength to weight ratio. Usually, two types of materials are used to design the camping chairs and these include:
ㆍCoated Nylon: This fabric can be a choice for people who look for durability, water-resistance level, and comfort level. If you are going on a camping expedition in an area where you will face rain, this nylon-coated material can be an ideal option for you as it absorbs more water and moistures.
ㆍClosed-cell Foam Padding: This material is not so good at absorbing water. So, a camping chair with foam padding can be an ideal option when you look for water-based activities during camping.
Folding seats of portable camp chairs are typically designed with carbon fiber stays, ensuring the rigidity of the back of the seat. In emergency conditions, you can remove the stays from the seat and use them as splinting material to immobilize the injured areas of your body – another feature that makes the camp chair more versatile to have a wonderful camping experience.
3. Weight Capacity
While shopping for a camp chair, weight capacity should be one of the primary deciding factors. Well, it becomes less important in the case when you look for a regular or luxurious-style camp chair.
A standard chair with a folding seat or stool is less in weight, about two pounds. A less weighted stool can be a great option when the ground is frozen or wet. A stool can also be a significant advantage because it shows a weight-bearing capacity to 500 lbs which is more than the typical folding chair, which may bear 250 lbs weight.
Camp chairs may range from 2 pounds to 5 pounds, depending upon their weight capacity level. You need to choose the one according to your needs, helping you have a safe and trouble-free camping experience.
4. Comfortability
Indeed, comfortability is the primary concern while buying a camping chair. However, it will help if you consider some things to know whether the chair is comfortable enough or not. First of all, you need to know what the chair size is? Does it fit your body size or not? Secondly, you have to look for the armrest. A folding chair or camping chair with an armrest makes it a more relaxing and comfortable chair.
They very next thing to consider is the back of the chair. A camping chair that fits your back and provides proper support to your back and neck is the best option to get more comfortable.
As well as this, the things that make a chair more comfortable are the chair weight, its durability, its material, and of course, its design. So before going to invest in your next camping chair, you need to go through all these requirements, to help you get an incredible camping experience.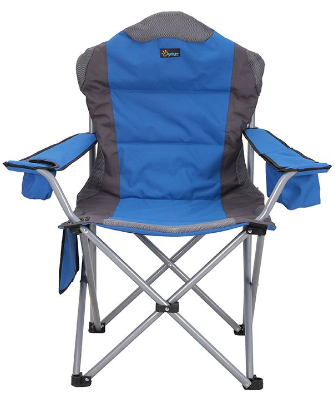 Oeytree Blue Camping Chair
5. Durability
Almost all the camping chairs are designed with various durable supplies. The material of a camp chair directly depends upon its durability or life of a camping chair. Usually, the frame of a durable camping chair is designed with steel and wood. The seats are usually designed with fabric. Generally, two types of materials, including coated nylon and padding foam, are used to design the camp chair seats.
Compared to the foaming seats, camp chair seats with coated nylon can be more durable because they are water-resistant and are more comfortable. When your camp chair resists water and other environmental fluctuations, it can last long.
As well as this, the durability or lifespan of a camping chair does also depend upon the style you choose to use the camping chair. Therefore, you need to pay a little attention to taking care of the camping chair, allowing it to have a long lifespan.
6. Portability
The portability level of the camp chair decides how easily you can carry or move it. Certain factors determine the portability level of the camp chair. For example, a lightweight camp chair will be easier to carry anywhere.
As well as this, the size and foldability do also matter to carrying or moving a portable camping chair. If you are on an expedition where you will be more engaged in traveling and adventuring, you need to look for a portable chair to carry anywhere with you.
7. Complexity
The complexity level of a camp chair defines how difficult or complex it is to set up, use, or carry a camp chair. Therefore, camp chairs with less complexity or easy to set up are preferred. Before buying a camp chair, ensure how quickly you can learn to use the chair. A camping chair with a complex setup process may take time and delays your rest period. Moreover, it should also not be designed with a complex structure to find it difficult when carrying them during your adventure day.
8. Design Preference
Camping chairs come up with a variety of designs, including:
ㆍClassic or standard camp chairs
ㆍTwo-legged camp chairs
ㆍThree-legged rocker
ㆍScoop chair
ㆍSuspended chairs
ㆍCamp stools
ㆍBuilt-in canopies chairs
ㆍCamping loveseats
You need to know for what purpose you want a camping or folding chair, helping you decide the best design for your next camping chair. But, of course, the design also depends upon the environmental conditions of the places where you will run your next camping expedition.
As well as this, outdoor camping chairs also come with minimalism designs, standard designs, and luxurious designs. Now, it depends on your choice, budget, and comfortability preference. We are a camping chair supplier. If you are interested in our products, please contact us now!