Camping Bed

Wholesale
Precautions For The Camping Bed Wholesale
For the most part, type (searched by 9% of your visitors) plays the most critical role in your research when exploring camp beds. On top of that, other useful ones include brand and price. Finally, some shoppers narrow down their choices by availability, color, overall length, overall width, specials, overall height, and commercial use. When you're making your wholesale, you'll also want to consider a few factors:
Frame material. Aluminum is lighter than steel. However, steel is stronger and more durable.
We've touched on this, but make sure your camp bed is long enough to support you. You don't want to go to your campsite and end up just hanging your feet on the end of the cot.
Weight capacity. While most camping beds are strong enough to support 300 pounds, many are even stronger. Some lightweight cot has a lower weight limit and you need to be aware of this.
Bunk options. There are a handful of small, bunk-style camping cots available. These are a great option if you're camping with kids and need to save space.
Comfort. Another way a camp bed keeps you comfortable is to keep you cool in warm weather and warm in cold weather. Because they're raised from the ground, they don't obstruct airflow, which will improve circulation when your vents are open. When it's cold, the frozen ground won't absorb all of your body heat.
Advantage of our

Camping Cot:
1. Foldable Assembly : It comes with a handy stuff pocket for easy portability and storage. You can put it in your backpack and take it anywhere you want to go. The shock cord construction makes assembly quick and easy, and you're ready to sleep in just 2 steps.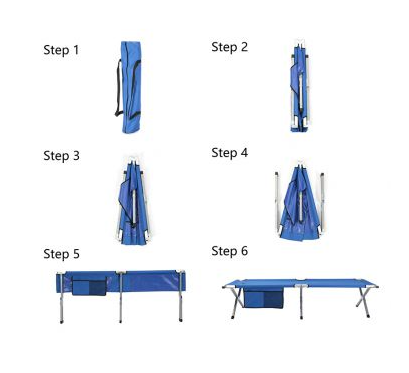 2. Fabric Waterproof : The surface of our lightweight camping bed is made of outdoor waterproof fabric, with fine workmanship, precise sewing and good details, each product is handled by traceable workers.
3. Durable and Strong : Lightweight and sturdy, the connecting pins are easy to connect. Overweight bearing up to 500IBS , 8 non-slip feet make the bed stable and not shaking. The ground lift design keeps you away from hard and wet ground.
At Oeytree, We work hard to make sure you have options. That's why we have so many camping bed wholesale on our site. We want to make sure that when you're looking online for where to Wholesale Camping Bed, you're getting the best one for you. Of course in addition to the above types of camping beds, we offer camping chairs, camping table, picnic basket, kermit chair and all about camping products. If you are interested in our products, please contact us.
Read More