A camping chair can mean just about any kind of foldable chair that can be thrown in the back of a car and carried to your final destination, be it a few feet to your campsite or several miles to your location. When looking at buying a collapsible to add to your camping gear, you'll want to consider several factors: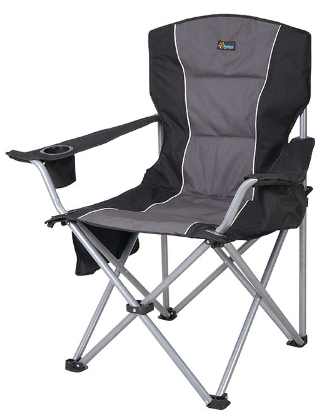 Oeytree Black Camping Chair
End-Use:
If you are using your portable camping chair most often for backpacking, its weight and compact size are crucial components. If you do more camping at a campsite, then comfort should be your top priority.
Size/Height:
If you are larger or prefer to spread out and stretch while sitting, a roomy, larger chair is better. Low chairs are perfect for concerts and sandy or uneven areas. Higher chairs are easier to get in and out of but take up more space when packing.
Design Preference:
Some camping chair options include the classic or standard camp chair, a two-legged chair, three-legged rocker, scoop chair, suspended chairs, camp stools, and more.
Once you know what you'll be using your folding chair for, you can decide on what kind of folding camping chair is best for your needs. There are three main categories of chairs you'll want to select from:
Minimal:
Minimalist camp chairs typically come in two main styles: foldable seats and stools. Since these are lightweight, they are ideal for backpacking trips where you want to make every pound and inch of space count. The folded dimension of this kind of lightweight chair will shrink dramatically, and the fabric and frames are thinner than the other chair options, so you're not lugging around extra weight. This means that they aren't the most comfortable for everyday use. Still, their streamlined, low-profile design is popular among passionate hikers or backpackers who have the way they want their outdoor gear to be arranged, and its weight ratio to their body weight down to a science.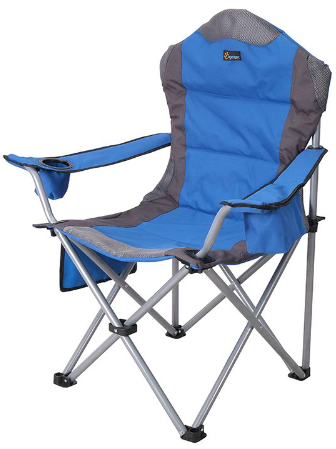 Oeytree Blue Camping Chair
Regular:
These are the standard chairs you see at get-togethers or outdoor concerts or at 4th of July picnics. They have aluminum legs, armrests, and cloth seatbacks, kind of like a cheap director's chair. They also usually come with a carry bag that you can sling over your shoulder with a strap. If you're not moving to a different campsite every day, but instead are staying at the exact location or have extra room on a multi-day river trip, these are the perfect kind of chairs. They are ideal if you only go camping a few times in the summer and are looking for something under $50. The chair frame may not be quite as well built as a top-of-the-line camping chair, and the fabric for the seat and backing may be a bit thinner, but you can still find plenty of viable and sturdy options in this price range.
Comfortable & Luxurious:
These designer chairs are like you brought a reclining chair on your camping trip. You will feel like a king or queen in the lap of luxury with these loungers. They have high backs, are higher off the ground, and offer lots of support and stability. The camp furniture usually has the most features and could include reclining capabilities, leg rests, cup holders, a storage pocket or two, a canopy to keep you shaded from the sun, and more. While this heavy-duty camping chair may seem bulky with the extra comfort level and accessories, it usually only weighs five pounds.
Double Camping Chairs:
These are like a loveseat couch, but for your outdoor adventures. They are perfect for couples to snuggle up close together for warmth or enjoy each other's company. Most of them have two armrests and an open double-wide seat like a couch. However, some more closely resemble two individual chairs fused with a middle storage compartment, cup holder, or armrest between them, like at the movie theater. Understandably these chairs are bulkier than a single chair and can weigh up to sixteen pounds, so you'll want to keep that in mind when you're packing and planning a trip. They can also be a bit pricier, but keep in mind that you are purchasing two chairs combined into one seat. Overall, double camping chairs can be an excellent choice if you want to spend the time at the campfire as close to your loved one as possible.
We are a camping chair supplier. If you are interested in our products, please contact us now!