The old guard of camping once said, "You spend more than a third of your camping time sitting in a camping chair." This is not an exaggeration.
Since you spend so much time in a camping chair, it's important to find the right one for you
However, there are so many kinds and styles of camping chairs. How to choose them?
In this article, I will share with you: How to choose a camping chair?
(Back in the day, when we first started camping, we didn't have any chairs. We could only lay a picnic mat. Then a bunch of people sat on the ground, until later bought a camping chair, and feel the whole texture, and quality are a great leap forward!
How to choose a camping chair? Five key points to choose
1. Storage shape/size
2. Chair height
3. Seat back length
4. Have handrails
5. Stability
There is no best, only the most suitable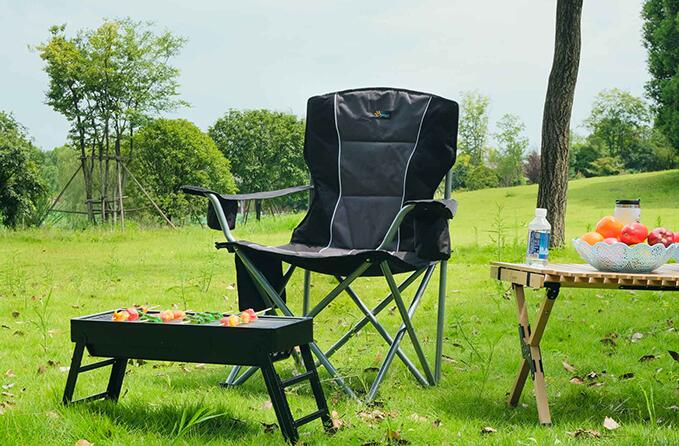 1. Storage shape/size
"Receiving shape" relates to your chair receiving way and shape
"Storage size" relates to whether your car can carry it
Consider these two factors together. Don't buy a great camping chair that you can't take out of the house with you.
Receive the shape basically is divided into "column shape" reach "plate shape" two kinds, the chair of column form receives rise to be met more convenient. When receiving accounts, you can finally get on the car, and put it into the gap of the carriage. But we usually have to get on the board first. We have to reserve the space for it before we put anything else on it. Otherwise, if your car is filled with stuff first, it's usually very difficult to put things on the board or sheet...
So I would suggest starting with a "column" chair (try not to choose a "slab" chair). Then consider the size of the chair, not too long.
2. Chair height
Although the height of the chair depends on the height of the table, choose a low chair if the table is low and a high chair if the table is high. However, there are a lot of adjustable camping tables out there (and adjustable tables are recommended), so I think it's more about how you feel and what you like.
I personally prefer a "low height camping chair", because it is close to the ground, and has a more leisurely, lazy feeling.
In addition, you need to pay attention to "chair (back) Angle"
If your chair leans back, it might be comfortable, but when you're eating, cooking, playing board games... Your back will have to move away from the back of the chair, which may make you feel "tired"
3. Seat back length
Everyone will choose a camping chair with a back. If there is no back, it should be called a camping bench. Ha ha ~
But the back of the chair also has the division of length, long back of the chair for example "big sichuan chair" can rely on the head, is more comfortable, and can take a nap. But the downside is that you need to consider whether your tent space is big enough. If the living room tent is not big enough, this kind of big chair can easily make the interior space more difficult to walk.
Relative, if the choice of short back, such as the "moon chair", although it can not lean on the head, but a lot of light, also compare does not occupy the space inside the account.
Personally, if you're just starting out camping, you don't need to buy a long-backed camping chair at first, as such chairs are usually more expensive and difficult to store and carry. By the time you've been camping for a while, you're familiar with your tent space, your car storage space, your habits... Later, if you want to upgrade, pick up a comfortable long-back camping chair.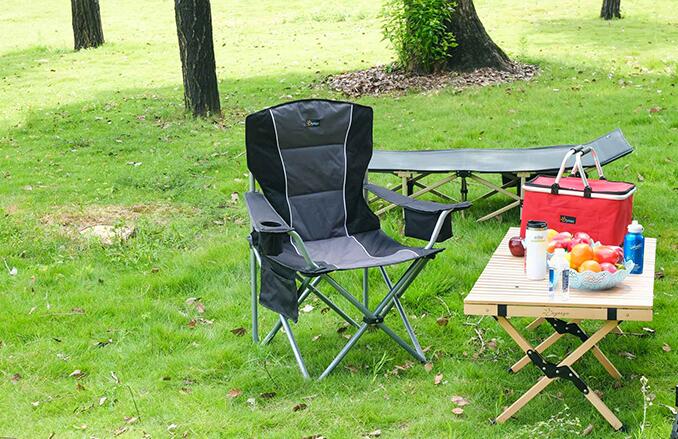 4. Have handrails
A lot of people like camping chairs with armrests, but I'm fine with that.
Camping chairs with arms. In addition to having a place to put your hands, some camping chairs have a "drink rack" or "bag" on the arms, which I find very convenient. I often leave my car keys or mosquito medicine... And so on sundry, put in this place, easy to take is also very good to remember ~
If you have a favorite camping chair that doesn't have a drink rack on the arm, don't feel bad. Instead, buy an "outside rack" to make up the difference.
5. Stability
In fact, chairs carry more weight than tables, and "stability" must be taken into account.
Also very popular recently "light weight chair", receive can receive very small, the weight is very light also, the convenience that carries is very high. But its stability is really poor, sitting on it as far as possible not to have too big action, easy to have the situation of unstable center of gravity.
A lot of people like the convenience of light weight chair, and can accept its instability so, this part sees everybody's choice!
There is no best, only the most suitable
Because there are hundreds of kinds of camping chairs, "there is no best camping chair, only the best camping chair for you". So before you buy also want to first "know yourself", review their preferences, camping habits, budget and other conditions, to buy their favorite camping chair, I hope you like this article.