A high-quality camping cot fabric that provides extra support for the hips and shoulders of side sleepers lying on it.
Your body has a better chance to recover after long days outdoors and you'll get off the ground.
There's been a couple of times when ants have entered my tent at night and being off the ground saved my sanity.
Here are a couple of considerations to keep in mind when you're shopping for the best camping cots for side sleepers.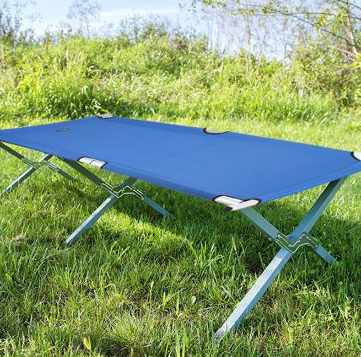 Support
There are a couple of ways to look at support for side sleepers who are in the market for a camping cot.
You can consider how much weight the cot can hold and the support for your hips and shoulders as you lay down for the night.
Side sleepers experience some of the biggest pains in their shoulders and hips because these become the main resting points for your body when laying down on any sleeping surface.
When you are able to lift up the head slightly to be more aligned with your shoulder position, it can alleviate that pain.
Some of the cots on this list are able to elevate the head by tilting the headrest up a little.
All comfortable cots on this list will hold several hundred pounds but you can see that number varies from 300-500.
This shouldn't be a problem for most campers but if you have a heavy pack or have a heavy pet that likes to jump in bed with you then you want to make sure you're going to be covered.
As far as support for side sleepers who need extra comfort for their hips and shoulders, most of the cots on this list will come with a foam pad mattress to lay on top of the cot.
This will provide all the support you need to get a solid night's rest. The cots that do not come with this feature will often have a mattress pad available for purchase separately from the cot.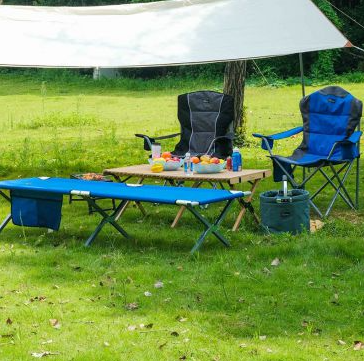 Portability
All of the cots on this list fold up fairly easily and will not take a lot of time to unpack or tear down.
None of them will require assembly either. What separates them apart is often a carrying case or how much space they take up when folded.
The carrying cases have handles you can throw around your shoulder or carry by hand for easy transportation.
The ones that do not come with a carrying case will require you to find your own way to haul around.
Usually, this is done by grabbing a hold of the frame and carrying it this way.
Most of the options on the market will weigh about 20lbs but some can come in slightly lighter.
Either way, you don't want to take this hiking with you but they won't be any problem taking from the back of a car right to your campsite.
Best camping cot for side sleepers: Oeytree Folding Camping Cot
Oeytree Camping Cot OT-001 is a quality camping cot but it has similar features to other brands making the same type of camping cot.
The x-leg assembly strengthens the cot and provides stability should help your body from contorting to weird positions as you sleep.
The Oeytree Camping Cot OT-001 is a lightweight cot that weighing 12.5 Ibs, with canvas storage bag, can easily bring it to anywhere you need, the maximum load is 330 pounds.
It's versatile so you can use it for car camping or for traveling to your site.
The more comfortable sleep combined with the smart design build keeps the Oeytree Camping Cot at the top of the list for best camping cots for side sleepers.
Oeytree also offers a wider range of high-quality camping cots. If you are interested in our products, please contact us now!